Forget wrinkle creams for a minute. Clothes are the ultimate anti-agers. And unlike wrinkle creams, they have an immediate effect. Not convinced? Here's proof.
I rest my case.
Notice that I'm wearing relaxed-fit dark neutral pants and black flat shoes in both pics, but the similarity ends there. It's the details (fit, fabric, embellishments, etc.) that make all the difference.
In today's video, I show you how to spot the details in clothes that can add 10 years and 20 pounds. Usually, when an outfit ages you, it comes down to one of these 10 things.
10 Outfit Agers
1. The Garish Print/Frumpy Print
Prints are having a major moment, but the big splashy prints that are aging are dated, loud, and over the top. Steer clear of big prints if you're not sure, and stick to stripes, checks, animal prints, and plaid.
2. Boxy Bottoms
From shapeless cargo pants to shifty shorts and clunky capris, baggy and boxy bottoms add weight, subtract height, and create an unflattering look.
3. Overly Embellished
A top doesn't need fringe and appliques and studs and pattern and sparkle to be fancy. As a matter of fact, the opposite is true. An item that is ornate and busy but cheaply made will always be aging.
4. Frumpy Shoe
I have done whole videos on shoes, and could write volumes on this topic. Yes, styles change, and a pointy toe may give way to other trendy styles, for example, but with footwear, it's all about finding the balance between comfort and style and trend.
5. Dated Details
Not all details are created equal. Prints, embellishments, and other add-ons can take a piece from simple to a statement, and also date it more quickly. From metal studs to ikat prints, yesterday's trends look dat4ed today.
6. Matchy-Matchy
Monochromatic is chic and timeless. Matchy-matchy is not. The difference, as always, is in the details. Monochromatic looks are easiest to pull off in timeless and neutral pieces. Add color, and it's trickier, though still doable. Add color, pattern, and lots of dated details, and the look becomes over the top and no longer refined and elegant.
7. Shapeless Clothes
Nobody looks good in shapeless clothes. Nobody. Not even supermodels. The ideal fit is something that skims the body without clinging and without swallowing it up. Baggy clothes will always add weight and subtract style.
8. Too Much Going On
When assembling an outfit or adding accessories, limit the details and the statements to 1-2. An outfit, or even a single item, with a ton of detail will date quickly and look frumpy.
9. Out Of Style
It can be hard to retire items just because they are no longer trendy, but clothes that are out of style will always make us look out of touch with style.
10. Trying Too Hard
This is often a little subtler than the rest, but trying too hard can encompass a few different fashion mistakes, including dressing too young and dressing too sexy. Both have the opposite of the desired effect.
Now that we've covered these principles, let's take a look at some outfits!
Outfit 1: Red tunic tank, patterned Bermuda shorts, leather thong sandals
From the tunic with the dated floral applique to the baggy and too-long shorts with the matronly print, to the frumpy shoes and out-of-style accessories, this outfit is a mess.
Frumpy Boxes Checked:
Frumpy Print
Boxy Bottoms
Shapeless
Dated Details
Frumpy Shoe
Out of Style
A simple tank, a well-fitting and solid pair of shorts, and a cute pair of sandals would turn this look around. Here's an updated tank from Cyndi Spivey.
Outfit 2: Tunic, jacket, cargo shorts, and leather thong sandals
This tunic features a garish print and tons of studding and embellishments. Paired with a matching jacket, slouchy cargo shorts and ugly leather sandals, the look is frumpy and unflattering.
Frumpy Boxes Checked:
Garish Print
Boxy Bottoms
Frumpy Shoes
Overly Embellished
Dated Details
Out of Style
Too Much Going On
Shapeless Clothes
Matchy-Matchy
This outfit from Fake Fabulous is an updated way to wear the same type of look.
Outfit 3: Tight Tunic, ruffled skirt, statement bag, flats
Cheesy catalog pose outside, this dated outfit from White House Black Market circa 2010 features many out of style elements, from the ruffled patterned pencil skirt to the tight wrap tunic with empire embellishments to the over the top bag. Frumpy mary jane flats don't add any additional style.
Frumpy Boxes Include:
Dated Details
Out Of Style
Too Much Going On
Frumpy Shoes
Overly Embellished
Matchy-Matchy
This modern version of a black-white skirt outfit features a staple top with the statement skirt and strappy heels.
Outfit 4: Printed dress, leather thong sandals
This hopelessly matronly print combined with a shapeless dress that is saddled with surprisingly unflattering ruching, combined with the same sandals, makes for a frumpy outfit.
Frumpy Boxes Include:
Matronly Print
Out Of Style
Shapeless Clothes
Frumpy Shoes
This is a modern version of the printed dress and flat sandals look from Lows to Luxe.
Outfit 5: Crazy top, pencil skirt, pumps, novelty bag
Where do I begin? This look screams "trying too hard" and by screams, I mean that literally. There is so much going on and none of it is good. From the crazy print and embellishments on the top, to the unfortunate bag, it's all wrong. One of the members of my Ageless Style Program said that she spotted a similar bag at a truck stop and just shook her head. Enough said.
Frumpy Boxes Include:
Dated Details
Out Of Style
Too Much Going On
Overly Embellished
Trying Too Hard
Matchy-Matchy
Garish Print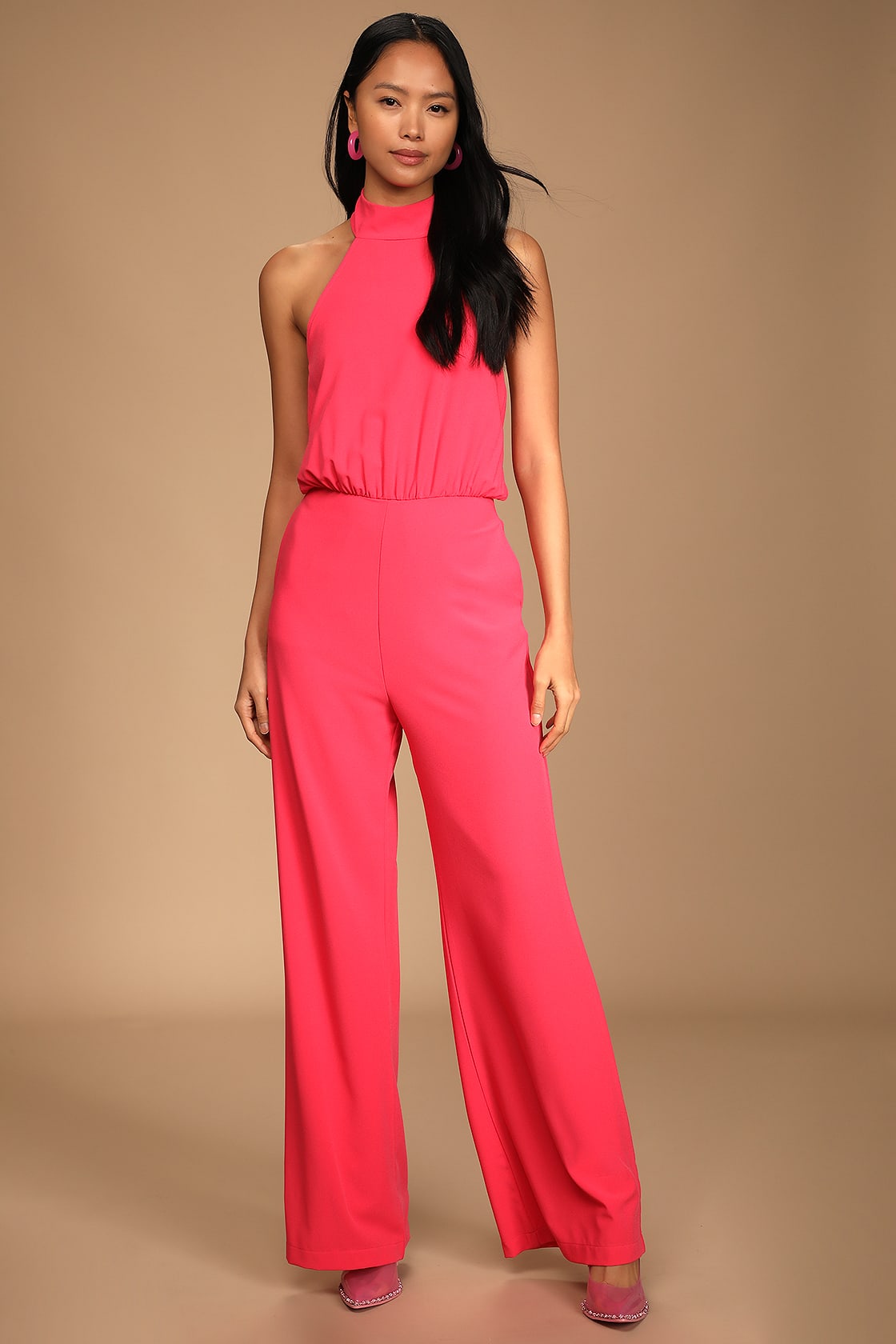 This jumpsuit from Lulu's is a modern and chic way to wear head-to-toe hot pink, although the shoes do not work with this outfit in my opinion. A strappy sandal would be better.
Outfit 6: Ruffled sparkly top, baggy capris, flats
This outfit features those dreaded shapeless capris that can almost instantly add 15 years, plus a dated sparkly ruffled top, a boring bag, and shoes that can only be described as an afterthought.
Frumpy Boxes Include:
Dated Details
Out Of Style
Too Much Going On
Frumpy Shoes
Overly Embellished
Boxy Bottoms
This is a much chic-er way to wear a red top with neutral pants, from Styleoholic.
Outfit 7: Printed tunic, capris, flats
From the matronly print and style of the top to the shapeless pants and styleless shoes, this outfit strikes out on every level.
Frumpy Boxes Include:
Dated Details
Out Of Style
Matronly Print
Frumpy Shoes
Shapeless Clothes
Boxy Bottoms
Here's a contemporary version using the same formula of the printed top plus neutral relaxed pants, but this one is fresh and modern and chic.
Outfit 8: Pistachio green tee and shorts, leather sandals
This outfit features a statement color adorning shapeless and unflattering styles, from an oversized frumpy tee to slouchy shorts.
Frumpy Boxes Include:
Dated Details
Out Of Style
Boxy Bottoms
Shapeless Clothes
Frumpy Shoes
Matchy-Matchy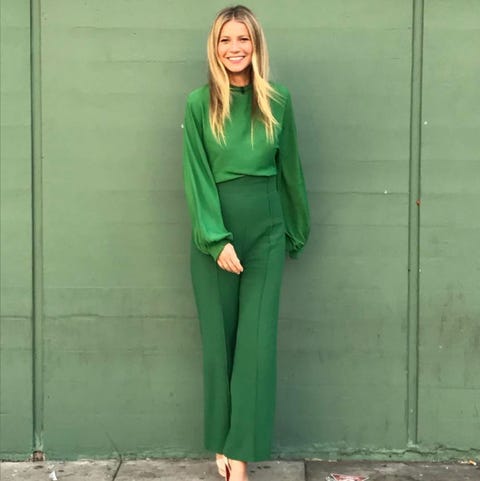 This monochromatic green outfit on Gwyneth Paltrow is chic and timeless, and like the original, the greens are not exactly the same shade.
Outfit 9: Strapless top, shiny mini, pumps
This is an outfit a 20-something clubgoer might wear, but after the age of 30, it just looks like too much. The problem with this outfit is lack of balance. The top or even the skirt when paired with something more subdued might work, but together, they are way too much. The colorful pumps don't help.
Frumpy Boxes Include:
Trying Too Hard
Over the Top Details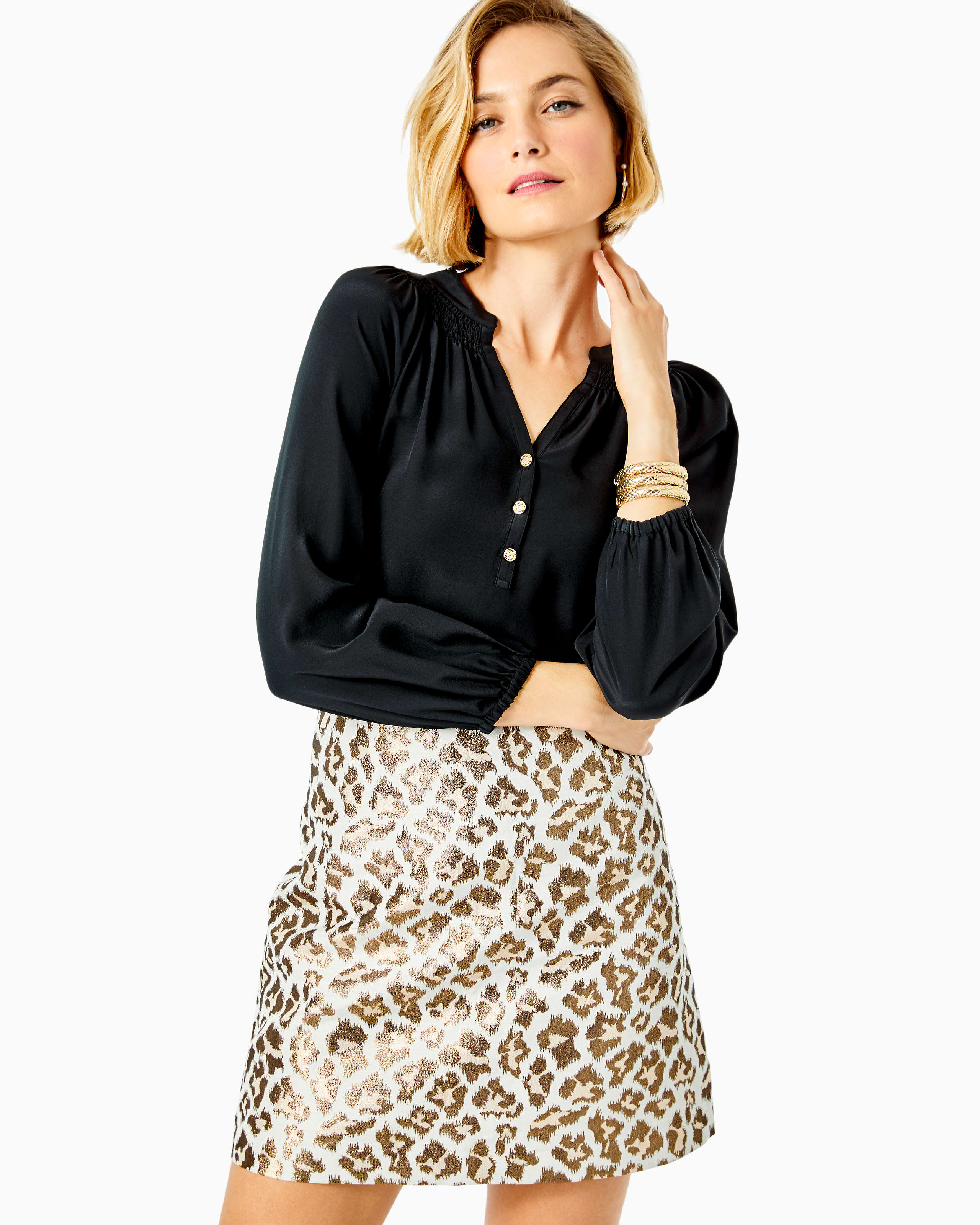 The top in my original outfit, above, is also from Lilly Pulitzer, but the Lilly look here is so much more modern and chic yet still fun.
Outfit 10: Baggy sweatshirt, shorts, Converse
Borrowed from my teenager, this look features an oversized sweatshirt, short shorts, and Converse. The look and the post are definitely tongue in cheek, but the message is clear: Nothing ages you more than a too-young outfit.
This modern sweatshirt outfit, from SheIn, is fresh but not juvenile.
Outfit 11: Floral embellished top, ruffled skirt, statement bag
This same dated tiered skirt from White House Black Market (old, from when it was in style) paired with a tight sleeveless top with scratchy organza rose detail at the neck, an out-of-style bag, and frumpy shoes create a cluttered and distracting look.
Frumpy Boxes Include:
Dated Details
Out Of Style
Overly Embellished
Frumpy Shoes
Matchy-Matchy
A modern black-white skirt look from LOFT.
Which of these outfit mistakes have you made? And which "aging outfit" did you find the most relatable? Let me know in the comments!