I'm a woman of mystery. Really. Even though I'm only 5'3″, petite pants are usually too short on me. If you don't believe it, check out these two pictures I just posted in the VIP group.
Both of these pants arrived in my Short Story Box, which is a subscription box for petites. (Quick review: Love the quality and fit, but not everything has been quite my style. Of course, that's pretty typical of me.)
Okay, I guess these don't look that short. But trust me, they are, hovering an inch or two above the intended ankle length. The shirts, however, are the perfect length.
This is all to illustrate my point:
It's not enough to just know that you're petite or tall, but where you are petite or tall.

NM
Back to me, for a minute. (I know, I know). I'm petite in my upper body (torso) and pretty much regular length in my lower body (legs). And that's a critical piece of information when it comes to shopping. That means that regular length tops can often look like tunics on me, but petite pants will generally be a little bit too short.
As I've mentioned in the past, the Fashion Fit Formula goes WAY beyond long torso/short torso to tell you your exact vertical proportions, to an eighth of an inch.
But today, we're just focusing on the length of your torso (for the purpose of this article, we are referring to your body, minus the legs) in proportion to the length of your legs. Chances are, if you've never given this topic much thought, you're probably balanced. If it's never come up, it's probably because you are fairly even in both "halves" of your body.
But how do you know for sure? In today's video, I share 4 easy ways to determine if you have a long, short, or balanced torso.https://youtu.be/YeH3ASRcSEo
The Measuring Test
There are many ways to measure for a long torso/short torso, but the simplest and most foolproof involves measuring from the top of your head to your crotch, and then from your crotch to the floor. The easiest way to do this is to stand with the backs of your feet against a wall, and mark the spot at your head and crotch. There are plenty of other ways to do this that are more precise, but this is the easiest to do for yourself and will give you an idea of how the two halves of your body compare.
The Hand Test
This system was developed by Australian image consultant Imogen Lamport, and it's super-simple to do. You simply place your hands horizontally below your bust, and the number of hands you can fit in that space determines your torso length.
Short Torso: Fewer than 2 hand widths
Long Torso: More than 2 hand widths
Balanced Torso: Two hand widths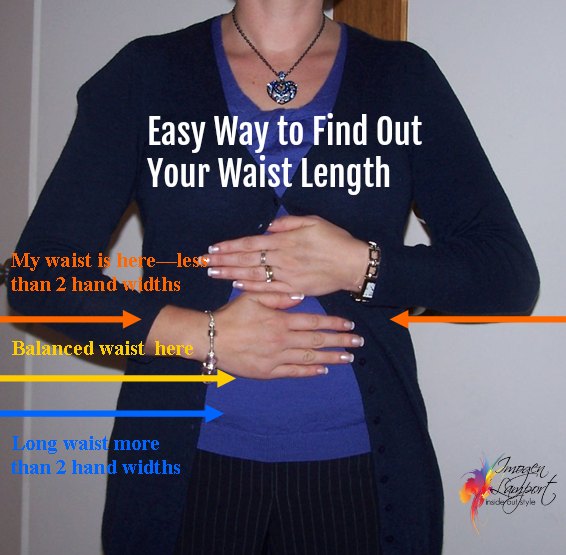 The Weight Test
In my almost 20 years of working with clients, I've noticed that we tend to gain weight where we are shorter, and be naturally slimmer where we are longer. Back to me, for example. I tend to accumulate weight around my midsection, and stay slim through my legs, hips, and bum.
If you tend to gain weight in your upper body, you may have a short torso.
If you tend to gain weight in your lower body, you may have a long torso.
If you gain weight evenly all over, you may have a balanced torso.
The Clothes Test
The final long and short torso self-test I want to share is the clothes test. This is the one I started this post with, and the one you may have already recognized in your own body.
You may have a Short Torso if:
Shirts tend to be long and pants can often be short
Tunics are flattering in general
High-waisted styles, especially those with a lot of detail around the waist, are hard for you to wear
You rocked the low-waisted styles back in the day
You wear regular to long length pants, even if you're petite
Dropwaist styles are flattering
You may have a Long Torso if:
Shirts tend to come untucked and be too short
Pants tend to be long
Tunics look out of proportion on you
High-waisted styles are your friend
You wear petite to regular length pants, even if you're tall
Drop waist styles are unflattering
And now I'd love to hear from you! Did you find these methods helpful? What did you learn about your vertical proportions? Let me know in the comments!
Outfit Makeover
This week's outfit makeover is on Kath, who you may recognize from the first episode of the Ageless Style Show. Kath sent me a picture of an outfit that wasn't working for her. Since Kath has a virtual closet in my stylist closet system, I was able to go into her "closet" and create a different look for her.
Before
In this first look, the skirt is too long, and looks shapeless with the drapey top. The ankle-strap sandals further add to the shortening and widening effect of this outfit. It isn't bad, by any stretch, but it isn't amazing, and Kath didn't feel beautiful in it.
The Outfit I Created
I started by suggesting that Kath shorten the skirt, which was too long and hit at the wrong spot on her legs. Then we had fun with pattern mixing, again, and added a floral shirt. Finally, we used the blazer to tie the two pieces together and further lengthened her legs with a nude pump.
The pattern mixing works here because there is a common color in the skirt and the top (pink) and because the size of the patterns is very different (tiny dot, large floral).
After
Kath looks longer and leaner in the after look, and she clearly feels prettier and more confident in it as well.
Are you interested in an outfit makeover (or any kind of makeover)? Fill out this form and I'll try to do your makeover in a future video.
Buzzworthy
I've had quite a few compliments on my skin lately, including one from my mom, and the credit for my brighter, fresher complexion goes to the Targeted Dark Spot Corrector from Rodan + Fields. Here's what I love about it:
It's gentle and totally non-irritating, which is especially important in those of us who are prone to hyperpigmentation
It's easy to apply
It incorporates nicely into your existing skincare routine
It works!
Targeted Dark Spot Corrector, $66
Question of the Week
This week's question is a common one that many of you have shared.
I AM JUST RECENTLY RETIRED AND I NEED A LITTLE MORE HELP IN CHIC CASUAL….I AM SICK OF JEANS AND WORKOUT CLOTHES. NEED A LITTLE MORE REFINED CASUAL CLOTHES.

FELICIA, 57
Here are my strategies for Felicia:
Upgrade Your Fabrics
If you've been wearing denim on repeat and knit tees daily, you might just be bored with these classic but casual basics. Try upgrading your outfits by switching out your casual staples for ones in different fabrics:
Swap out a knit tee for a silky, embellished, or linen tee
Swap out your jeans for a pair of linen or twill pants
Swap out your workout leggings for a sleek black pair or one in a faux leather
Just switching out one element of the outfit (i.e. replacing a tee with a top) can update and upgrade the whole outfit.
Wear Your Clothes
Many women who have recently gone through a lifestyle transition (retired, moved, etc) suddenly find that they stop wearing the clothes from their former life. The pretty blouses, suits, and dresses stay tucked away and you're left with nothing but gardening clothes and cleaning attire. If you've spent years with a polished work wardrobe and a lackluster weekend wardrobe, it's time for an update. The first step comes when you recognize that your former weekend-only lifestyle is now your daily lifestyle, and decide to dress for it. Saving your work clothes for "best" or for an occasional event means that most of your best clothes are left to languish in your closet. Instead, pull out those professional pieces and put them to work in your new wardrobe.
You know all of those "work" tops hanging in your closet?

It's time to start wearing them again.

NM
Wear your dressier work tops with jeans, shorts, and other casual bottoms.
Try a work-friendly dress with a denim jacket and flat sandals
Throw a work blazer on over jeans and a tee-shirt to create a chic new look
The key is to decide which of your work clothes can be repurposed for your new casual lifestyle (are they comfortable, washable, etc) and start wearing them today. You can completely refresh your style this way without going shopping.
Elevate Your Workout Clothes
Throw a white or denim button-down with your solid workout leggings and cute neutral sneakers for a chic casual look.
Toss a cool casual jacket over a workout outfit when running errands
Swap crazy workout patterns for chic solids that work with the other pieces in your wardrobe
I hope that this post gave you some ideas for creating a chic-casual wardrobe using pieces you already own!
Have a question to submit for a future video/post? Email me at support@nadamanley.com!