When we were little, we were fearless. We piled on ropes and ropes of pearls and then added plastic shoes and a tiara and felt fabulous. We didn't worry about looking a little, well, much. We didn't second-guess our accessory choices before removing one item and muttering: "Less is more."
Because less was not more. Not at 3. Or 5. Or 7.
We were born maximalists.
We wanted all the pretty stuff, and we wanted to wear it all at one time.
It wasn't until we grew older that we started to think about things like too-much-ness and over-done-ness and the perils of being excessively bedazzled.
I'm still something of a maximalist. I think that restraint is boring, although I sometimes find myself envying a minimalist look, now and then. I admire the discipline of having and wearing less, the same way that I admire people who have clean desktops and uncluttered kitchens. I admire them, but I wouldn't want to be them.
In the past, when I would get questions about accessorizing, which happened often, I would be stumped. I could answer the specific question, of course, but I couldn't give the reason behind my answer. It was an intuitive process, not a system, the result of a little instinct, a little trial and error, and a lot of time spent looking at fashion magazines.
And then I stumbled across a system. It's called the 16 Point Accessory System, and no one seems quite sure who developed it, although one source I found claimed it came from a 1984 book by Christian fashion expert Betty Nethery called Uniquely You. Others credit Sherry Maysonave, who developed a point system for professional style in her 1999 book, Casual Power: How to Power Up Your Nonverbal Communication & Dress Down for Success. I found the best, and most current, explanation in this post by stylist Karen Herrema of Style by Karen. I loved her updates and how they are more in line with current trends.
With minor variations and updates due to trends/preferences, the systems all add up to pretty much the same thing:
Each Item = 1 Point
These include, but are not limited to:
Bags
Glasses
Hat or hair accessory
Jewelry (each piece gets 1 point; a pair of earrings counts as 1, a stack of bracelets or rings worn together count as 1)
Stockings (if they are colored, patterned, etc.)
Striking hair of any description (vivid or unusual color, hair that has been complimented on in the last couple of weeks, etc.)
Every item of clothing you are wearing
Bright nail polish
Bright lipstick
Statement shoes (bows, bright colors, open toes, etc.)
Bows
Contrasting or statement-making belts
Need a visual? Then check out this helpful image by my friend Tabitha Dumas.
It's just a guideline, of course, though a handy one. To test it out, I decided to find some beautifully accessorized outfits online and tally their points, to see how this concept plays out IRL (that means In Real Life, for those of you who don't have a tween to tell you this stuff).
8 Points
This completely un-boring outfit only scores 8 points, but each of the points is so impactful the result is still stylish. I counted 1 each for the scarf detail, the belt detail, the dress, the coat, the zipper, the buttons, and the shoes (!). Since the belt and scarf details are so strong, I could probably assign them each 2 points to bring the tally up to 10.
11 Points
I gave this adorable, colorful look 3 points for each of the clothing items, an additional point for a third color, and an additional point for a print, 2 points for the fab necklace, 1 point for the watch, 1 for the bracelet, and 2 points for the shoes which I know she is wearing. I can't see makeup or nail color in this shot so I didn't count those.
12 Points
Neutral outfit with lots of colorful accessories: statement necklace (2), rings (2), watch (1), bracelet stack (1), bag (1), clothing (2, one for each piece), nice nails (1) and shoes (2).
11 Points
Laid back and neutral, this style gets points for the hat (1), clothing (3 total), sunglasses (1), shoes (2), bag (1), makeup (1), nails (1), and ring (1).
12 Points
This chic look gets points for the bag (1), nails (1), bracelets (2), rings (2), shoes (2), sunglasses (1) and outfit (2).
12 Points
This ultra-girly look from Christine at Hello Fashion gets 1 point for the topknot, 1 point for the headband, 1 for the sunglasses, bracelet (1), ring (1), shoes (3, 2 because they make a statement and an additional point for the pom-poms, LOVE!), blue nails (1), dress (2, for lots of detail and a print), and bag (1).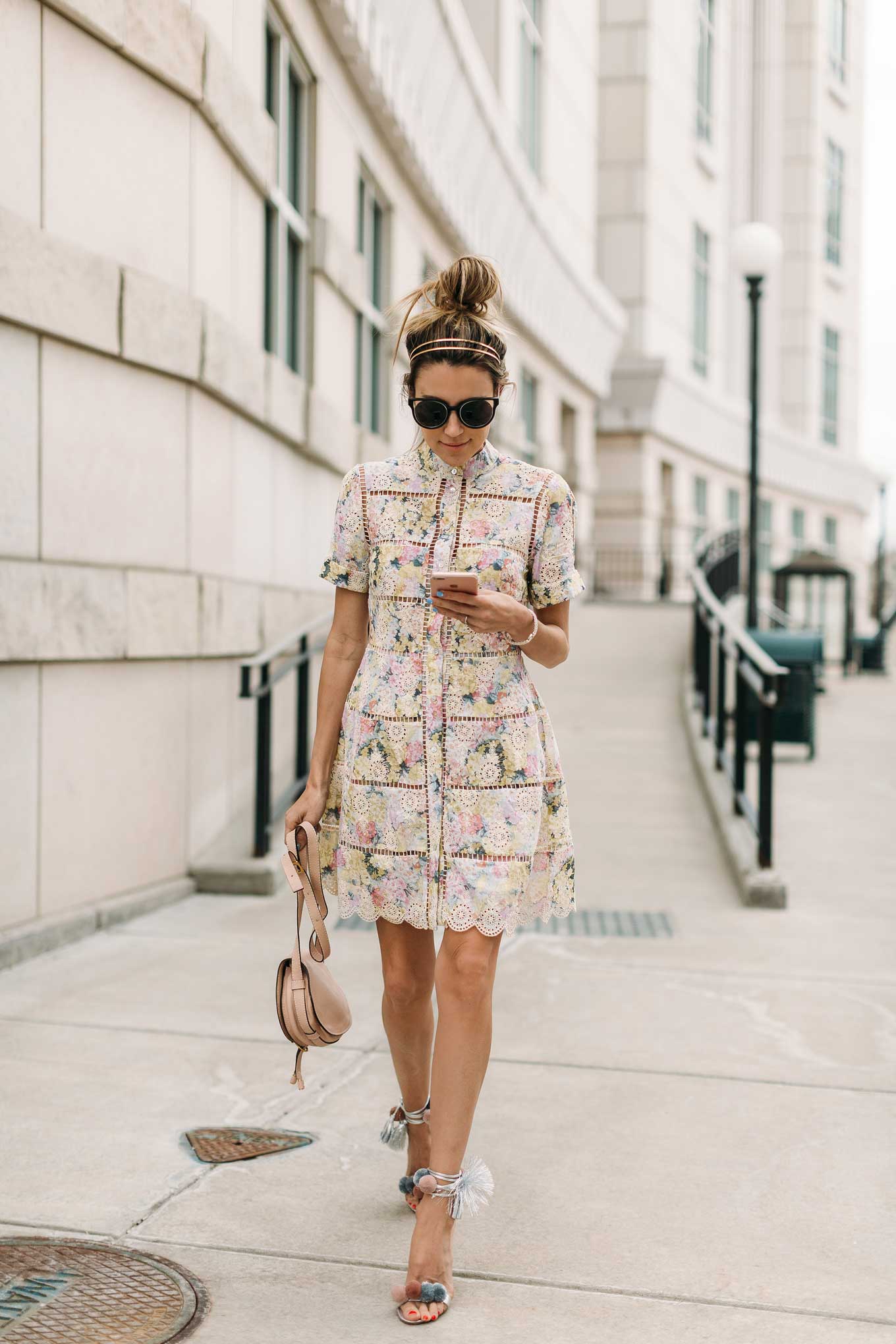 13 Points
Rach of Pink Peonies rocks this adorable outfit, which gets 3 points for the statement pink coat (a judgment call on my part), 2 for the shoes, 1 for the sunglasses, 2 for the oversized bag, 3 for the outfit (2 pieces, plus a stripe), and 2 for rings.
17 Points
For this look from Cara Loren, I counted her statement hairstyle (1), her sunglasses (1), her bag (1), shoes (2), earrings (2, because they're statement earrings), rings (6), bracelet (1), and outfit (3 points, 2 for the separates and an additional point for the print). She is wearing 3 rather delicate rings on each hand, so if I had counted by handful of rings, the number would have gone down to 13.
With a more minimalist and casual style prevailing on Pinterest right now, it was actually a challenge to find outfits that hit the 16-point mark. What do you think of this system? Are you a minimalist or a maximalist when it comes to accessories? I'd love to hear in the comments. And, now, just for fun, here are 3 accessories picks.
3 Statement Accessories
Need help getting to those 16 points? These statement-making accessories should do it!
Aren't they adorable? Happy accessorizing!