The frumps are for real, folks, and they're contagious. Let's put an end to them, shall we? It's so much easier then you might think. Trust me. We can do this.
It's as simple as choosing one thing over another. The cute top over the frumpy top. The cute shoes over the frumpy shoes. The cute hair over the frumpy hair. You get the idea.
You have to choose something. Why not make it cute?
I know this is an oversimplification, but in a nutshell, that's what it comes down to. The problem is that too many of us are making frumpy choices. As my mom always says, there is 35, and there is 35. In other words, no two 35-year-olds look alike. There are 35-year-olds who look gorgeous and stylish and like the best version of 35 possible. They don't look 17. (That's a problem for a whole different post). And they don't look 54. They look 35 and amazing!
And it's the same at 45. And 55. And 65. Wherever we are at, we want to be the most stylish version of ourselves. And that starts with stylish choices. Here, 3 easy steps for avoiding the frumps:
Look Around: Sure, fashion magazines can be over-the-top, but the single best way to develop an eye for what is current and what is not is to flip through a real-life-oriented magazine like In Style or Real Simple. (Vogue, Elle, etc. are more for fantasy shopping!). Also, frequent the websites of top retailers, like Nordstrom and Bloomingdale's, and check out their lookbooks and trend edits. And finally, follow a few fashion bloggers (like moi!) who post cute, current outfit ideas. You don't have to make it into a new hobby, but half an hour of browsing a month can be enough to refine your eye and help you spot the delights from the duds.
Avoid Frumpy Brands: Some brands are clearly aimed at an older demographic, and they often feature loud, garish prints, boxy silhouettes and wishy-washy, unflattering colors. These brands can take seemingly harmless items, like tees, and make them frumpy. Stick to brands and retailers that are known for being current and contemporary,, like J. Crew, Loft and Anthropologie, instead.
Check the Styling: Frumpy brands are shown in frumpy outfits and frumpy settings. The models (while always beautiful) are usually in an awkward pose, with mature accessories and hair. Models wearing more contemporary brands are shown wearing updated accessories (usually a strappy nude heeled sandal, but this varies) and a trendy clutch. Their stance is different, too. See the examples below. Both of these looks are aimed at woman in the same age group (40-plus), but one is frumpy and aging, while the other is cute and contemporary. (Once you get past the fact that I'm comparing elastic waist "jeans" to a lace dress, you'll be able to appreciate the other differences).
Frumpy Styling
Notice the elastic waist on the pants and the boring shoes.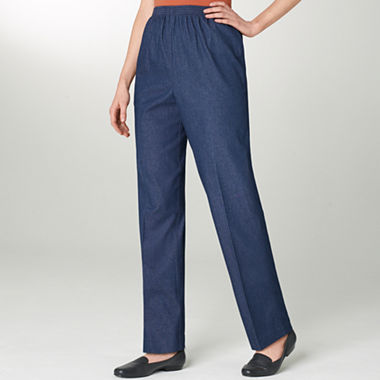 Cute Styling
Here, a breakdown of Frumpy vs. Cute:
Shoes
Comfortable shoes don't have to look like comfortable shoes, you know? They can look cute and not kill your feet. Which means that, unless you have serious foot issues, there is no excuse for shoes like these. Just none. You no longer need to choose between style and comfort. With brands like Bared, BeautiFeel, Vionic, and that classic comfortable shoe brand, Aerosoles, are designing shoes that are cute and comfortable. (Note: These same brands have frumpy styles mixed in with the fashionable styles, so choose wisely).
Frumpy shoes used to be so easy to spot, but with the rise of the ugly shoe trend a couple of years ago, the lines have become blurred. The difference, as always, is in the details. The updated comfort shoe that is so hot right now features trendy materials (suede, patent, patterns) and colors and, usually, a more streamlined silhouette. If one or more of these details isn't updated, you've found yourself a frumpy shoe.
Frumpy
With their wide footbed and unflattering straps, these shoes make no attempt at style.
Cute
Whatever your opinion of Birkenstocks, they are currently trendy and undoubtedly comfortable. Even a non-Birkenstocks fan like myself has to admit that these, updated in shiny rose gold, are pretty cute.
Shirts
A cute top is the single easiest, most affordable update you can make to your wardrobe. Buying a new, on-trend top (or two!) each season adds instant style to all of your everyday basics. Unfortunately, the wrong top can have the opposite effect, turning an otherwise cute pair of white jeans into a frumpy outfit. These tops are fairly easy to spot: garish, out-of-date print and a boxy, fussy or oversized silhouette.
Frumpy
The print and the shape are dated, and so is the styling.
Cute
A contemporary color and flattering silhouette make this a stylish choice.
Bags
It features multiple compartments. A nice wide strap for comfortable carrying. And it comes in a sensible color, like gray or bone. It's the "grandma" bag, and we've all spotted it. It can singlehandedly bring down any outfit, and instantly adds 10 years to your age. Sure, wipe-off, slash-proof vinyl is convenient, but at what cost? There's no reason to settle for stodgy styles when contemporary styles offer cuteness and practicality, too.
Frumpy
Cute
This cute striped crossbody from Michael Kors is pretty and practical! Look for a contemporary shape and quality materials.
Statement Jewelry
Nothing is more aging than a full set of matching statement jewelry. Nothing. It only works for Queen Elizabeth, and that's because she has the crown jewels on her side. Unless you're the same age as the Queen, or simply want to appear that way, break up those matched sets of statement jewelry. While a necklace and matching cocktail ring is acceptable, don't match the necklace to the earrings. Choose either a pair of statement making earrings or a statement necklace, but not both. A couple of statement pieces, spaced far apart, is best. So a statement necklace with a cocktail ring and stud earrings works well, or statement earrings and a bracelet but no necklace (or a simple chain), for example.
Frumpy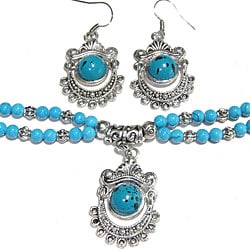 Cute
Pair this season's statement earrings with a fun bangle or cocktail ring, but skip the necklace.
I hope these examples have helped you separate the cute from the frumpy. Getting over a case of the frumps involves making the right choices at the store, so that you have the pieces in your wardrobe to put together cute outfits.