When you were 20, you could wear whatever you wanted. Whatever. You. Wanted. You could wear 23 trends all at the same time, although I don't necessarily recommend it.
When you were 30, you could wear 12 trends at the same time, and pretty much whatever you wanted, with a couple of exceptions. Belly tops spring to mind. (Not to be confused with the chic ever-so-slightly cropped tops, which a 30-year-old could still wear, abs permitting).
But now that you're 35 – 65, you're in treacherous waters. You are far from 20 but you still want to look and feel stylish. You feel like half the clothes make you look like you're trying too hard, and the other half make you look like you've given up.
Discover how to update your wardrobe and have fun with fashion again!
And if things weren't already challenging enough, fashion is fond of rediscovering styles that used to be reserved for your mother's mother, and turning them into trends. Tiny prints. Mint green. Round collars. Wear one of these, and you can pull it off. But a mint green blouse with a tiny print and a round collar buttoned up to there? Treacherous. At 20, you're so young that you can wear what appear to be your mother's clothes in an offhanded, ironic way. At 40, you are the mother, or at least could pass for one, and it's no longer ironic.
As my mother likes to say: "There's 40, and there's 40." That number can mean so many different things depending on the woman. To further complicate things, there is the age you are and the age you look. And by this, I mean how you look objectively, to other people, not how you think you look. If you look 30, dress for 30. If you can pull a look off (and for this sometimes you need to enlist the advice of a trusted friend, or a stylist), then, by all means, pull it off. And do it now, because someday, you may wake up and find that it's no longer working for you.
And while it's great to dress for your actual age or for your apparent age, whatever you do, don't dress for a past or future age. Don't dress for 20 or 60. Unless, of course, you're 20 or 60.
But what exactly does dressing at 20 or 40 or 60 look like? What is, and I shudder at the term, age appropriate? There is no short answer, but there are some guidelines. Here, style for the ages, demystified. In other words, how not to dress old.
1. Look to the Label
The brand, the retailer, and the way an item is styled all offer clues. A flouncy dress with undone hair and motorcycle boots is being marketed at a 20-year-old, while a tailored dress with classic pumps is clearly aiming for an older customer.
2. Look at the Color
Classic neutrals like black, navy, white and camel are ageless, but other colors are trickier. If you love the new pale, pastel colors, choose pieces in sharp, sophisticated styles and make sure the color doesn't wash you out. And beyond your 40s— use color to add freshness to your complexion, but avoid extremes, like neons, or pale colors in very classic shapes, which can look matronly. Colors like mint and butter yellow look best in sleek, modern shapes or they're instantly aging.
3. Look at the Details
Often, the differences between a dress designed for a 20-year-old and one designed for a 40-year-old is subtle, so the best way to show these finer points is by illustrating them. Here, I take a single trend, the lace dress, and show you which styles work for which age group, and why.
Lace Dresses for Your 20s
From left: Free People "Petit Trianon" lace dress, $180, Macys.com; Lovers Friends "Holly" lace dress, $50, DailyLook.com, For Love & Lemons "Lolo" lace dress, $251, Zappos.com
These lace dresses are all super short and super trendy, with everything from high low hemlines (at left and middle) to babydoll styling to bell sleeves. They're fun and flirty—but not sophisticated.
Lace Dresses for your 30s and 40s
Free People "Luna" lace dress, $168, FreePeople.com; Oscar de la Renta long sleeve lace dress with slip, $2690, Neiman Marcus; J.O.A. "Lady Lace" dress, $118, ShopBop.com; Elizabeth and James "Levine" fitted sheer lace dress, $465, Neiman Marcus; Rebecca Taylor v-neck "tile lace dress, $495, ShopBop.com
The trick at this age is to pick dresses that are fresh, contemporary and trend-conscious without looking like a teenager. The lace dresses shown here all fit the bill. They offer a little more coverage and are sleek and sophisticated without being even remotely "old". The sheer parts are nicely balanced by covered parts, and the lace itself looks modern and cool.
Lace Dresses for Your 50s
JS Collection Soutache lace midi dress, $348, Bardot Gemma halter lace sheath dress, $119, and Tadashi Shoji lace & brocade sheath, $408, all available at Nordstrom
The 50s can vary dramatically, so the key is to dress for your body, your comfort level and your style. You want to look contemporary and fresh but not like you're trying too hard. If you are fit and fabulous in your 50s, there's no reason to stop wearing the dresses in the 30s/40s roundup, but once they start feeling "off" to you, move on to even more sophisticated styles.
Lace Dresses for Your 60s And Beyond

Antonio Melani "Edith" floral lace dress, $159, Dillard's; Diane von Furstenberg "Zarita" lace dress, $363.60, Farfetch.com; Lauren Ralph Lauren 3.4 sleeve boatneck lace dress, $132, Macys.com
These dresses are cute at 20 and classic at 60, but at 40, they are lethal. An elegant sheath in a classic lace with sheer sleeves that extend to the elbow or beyond is a stylish choice for a 60-year-old, and a conservative choice for a 20-year-old, but avoid them at 40. They will age you. They are all one major detail away from being a good fit for a woman in her 30s-40s. A bold color, a more contemporary lace, or a trendy sleeve detail could redeem them, but as they stand, they're not for your 30s or 40s.
Lace Dresses to Avoid
Michael Kors Chantilly lace belted dress, $1997, Neiman Marcus; Rickie Freeman for Teri Jon 3/4 sleeve lace shirtdress, $600, Neiman Marcus; Alex Marie "Bijoux" lace dress, $139, Dillard's; Chetta B. belted embroidered lace fit and flare dress, $128, Nordstrom
I'm kind of at a loss for words here, which as you know, is pretty rare. The first two dresses in this set are beautifully made and gorgeous, with amazing quality and attention to detail. But in order to pull off dresses this severe, with their long hemlines and high necklines and very classic, almost prim, details, you have to be tall, slim, and a big fan of very high heels. In other words, you need to look like a model. The third is just bad, bad, bad. Why do so many brands that cater to mature women insist on making them look babyish, with washed out pastels and oversized bows? This color, hem length, neckline, type of lace and bow detail all add up to awful. The fourth dress gets all the details wrong, from the length to the lace. The only person this dress would suit is a toddler, or possibly a cute 20-year-old, but they both have far better options.
Trendy Denim for Your 20s
All of the denim shown here can be found in this catalog. https://hueandstripe.com/catalog/306H&S5QYq
Trendy Denim for your 30s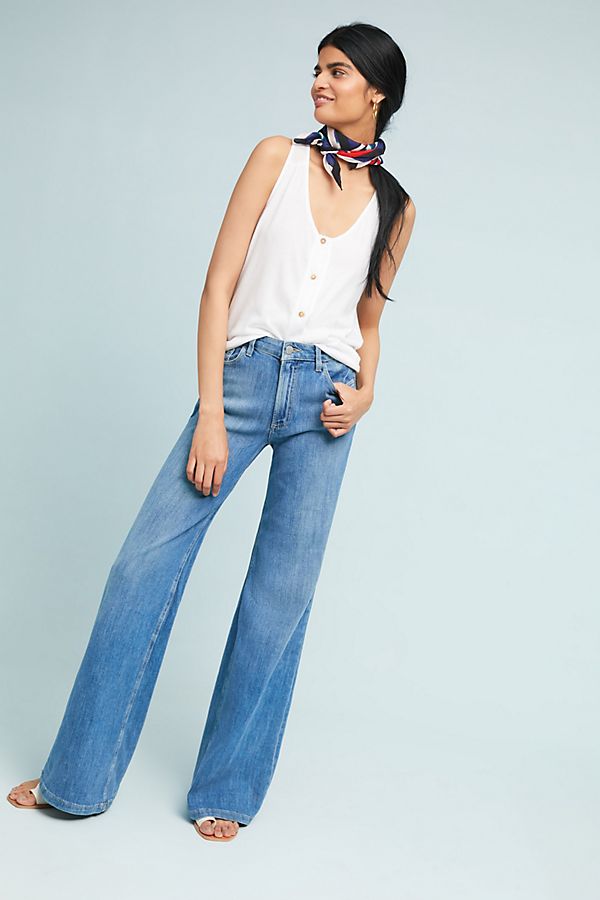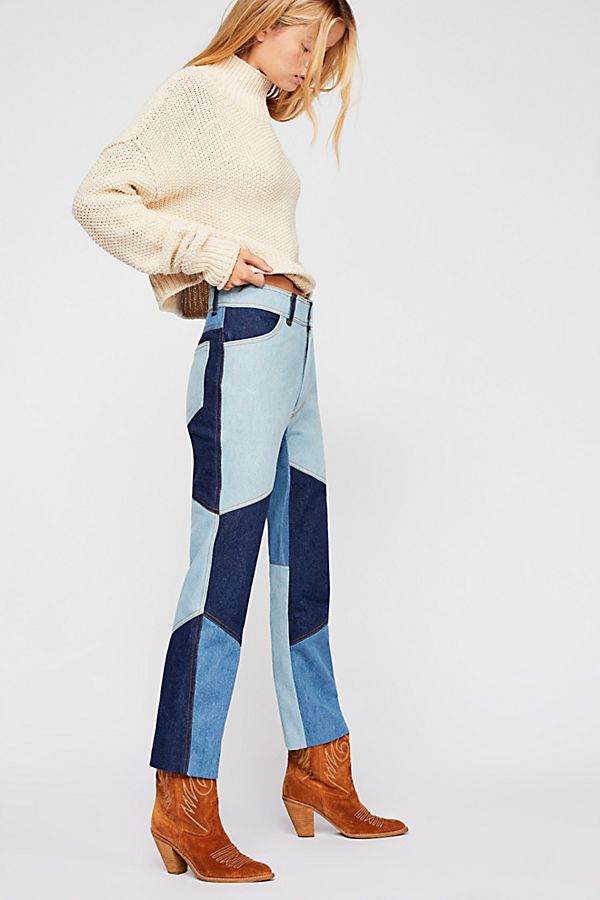 Paige Sutton Wide Leg Jeans, $239, Anthropologie; Barber Suchandra Recycled Denim Jeans, $228, Free People; Emma Low Rise Skinny Hightower, $199, DL1961
Now that you're hitting your style stride, you'll want to zero in on the trends and silhouettes that suit you best. You can still be trendy, if you like, but you'll want to balance it with a little bit of sophistication. In many cases, this simply means choosing a top that is a bit more polished, then pairing it with the trendy denim of your choice: distressed, ripped, patched, embellished, flared and stretchy are all great options for you. Of course, budget and body type play a role, as always, but so does practicality. This is a busy season of life, so you want jeans you can live in!
Trendy Denim for your 40s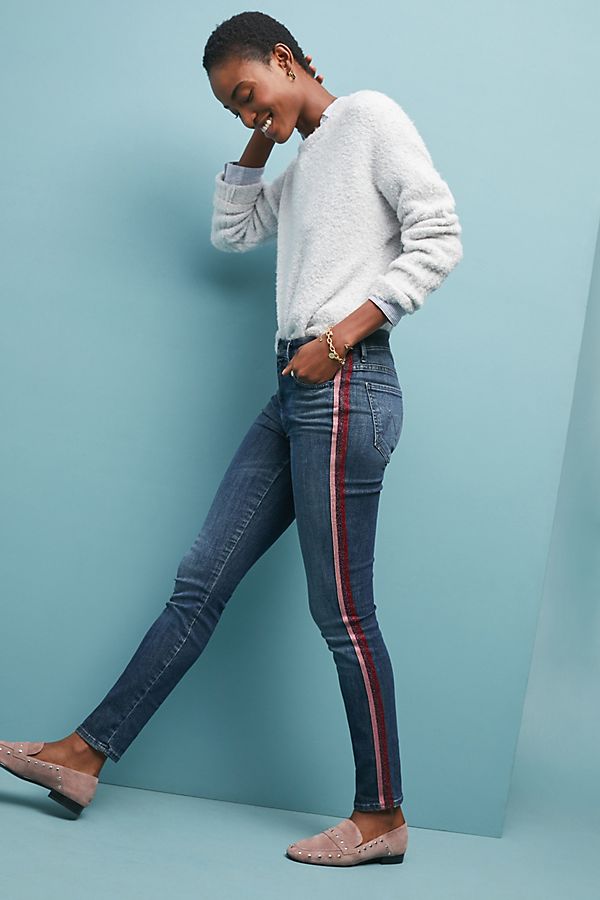 MOTHER The Looker High-Rise Striped Skinny Jeans, $248, Anthropologie; Relaxed Heritage Flare Jeans $78.00, Free People, The High Waist Step Hem Slim Boy Jeans, $135, Madewell
Turning 40 doesn't mean turning to mom jeans. (As a rule, mom jeans and moms do not go together). Instead, your 40s are about refining your personal style and honing in on what really works for you and the pieces that are going to become the backbone of your wardrobe. These all fit the bill. They're trendy, with enough flair to make them an instant update, but still classic enough to work through your 40s. The question of whether or not to wear ripped and distressed denim after 40 is largely a personal one. My take? If it suits your esthetic and you feel comfortable in them, then go for it. The examples shown here work for this decade, in my opinion, but if they're out of your comfort zone, then skip them and stick to other trendy details: a raw or stepped hem, for example, or a side stripe.
Trendy Denim for your 50s
The Kick Crop Jean, $78, Everlane; The Legging Ripped Ankle Skinny Jeans, $225, AG at Nordstrom; 7 For All Mankind Fringed Mid-Rise Skinny Ankle Jeans, $269, Anthropologie
A 50s trendsetter requires more quality, polish, and comfort, and these styles deliver. Current details, like a kick crop hem and a side stripe, keep the look contemporary without being juvenile. And, if you're a 50-something with a younger sensibility (or look) you can even embrace a ripped knee, if you want. It's all about balance, which is why I chose a style that is otherwise sleek and simple. One trendy touch at a time is plenty. The other trick, of course, is to pair trendy trousers with classic tops, from silk blouses to simple tees and sweaters. Save the trendy tops for the simpler bottoms.
Trendy Denim for your 60s and Beyond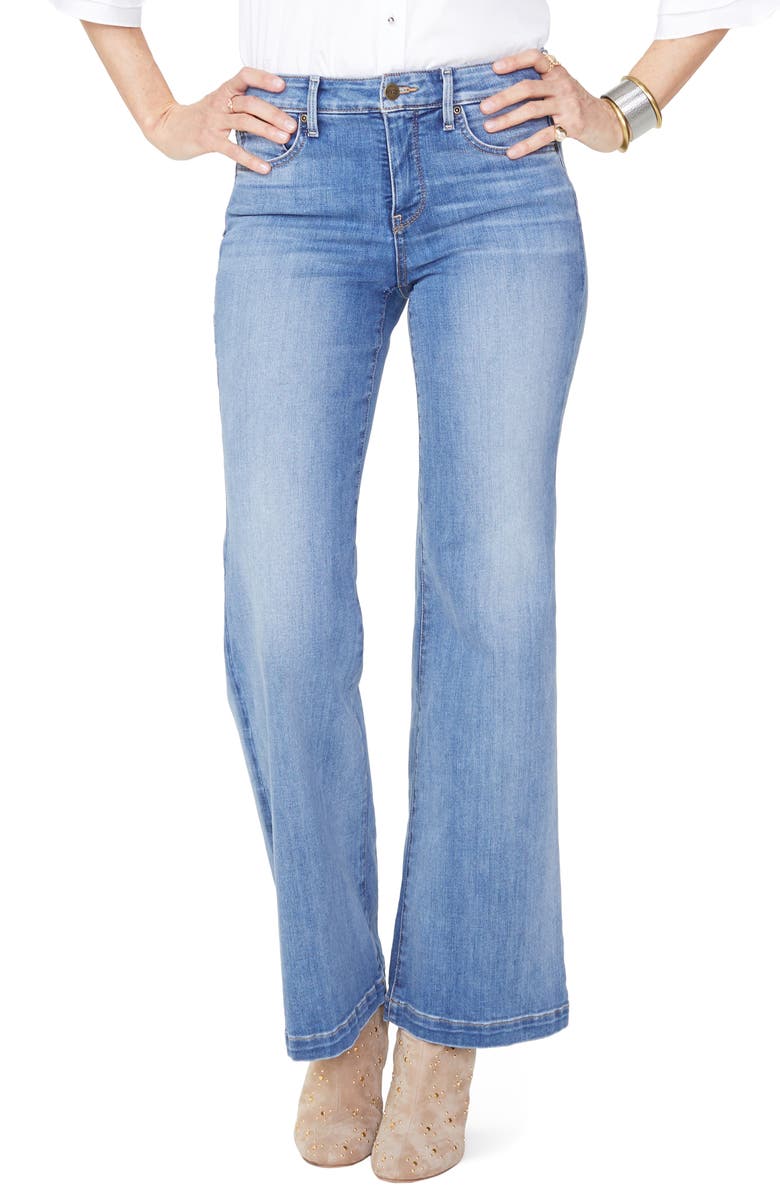 NYDJ Wide Leg Clean Hem Jeans, $119, Nordstrom; DL1961 Mara Instasculpt Mid-Rise Straight Jeans, $209, Anthropologie; Girlfriend Jeans in Cosmo Wash, $95, Talbot's
The Label, the Color, and the Details all offer clues, but I want to hear your thoughts. What do you think of these guidelines for lace dresses in your 20s, 30s-40s, and beyond? Do they resonate with you, or are you secretly eying a dress from another age-group category. Let me know what you think!
Need more ideas on how not to dress old? That's awesome, because I'm full of them! Check out the following posts for more on how to dress "age appropriate" (shudder). As for acting your age, you're on your own…
How Not to Dress Old Part 2: Old Clothes vs Young Clothes
What to Wear in Your 20s, 30s, 40s, 50s and Beyond
Makeup Rules at 20, 30, 40 and Beyond