A recent email from my sister asking for Christmas wish lists from the girls struck panic into my heart. It's time, people. Time to go shopping and hide gifts and scour catalogs. Don't get me wrong. I love (almost) every minute of it, but the thing is, my plate is already crammed full of things to do-immediately and do-now and do-in-the-next-10-minutes that I have no time left for the list called do-sometime-in-the-next-3-months. But I know, because this isn't my first fall as a mom, that December will be here in 39 seconds, and I not only have Christmas to shop for, I also have a birthday to plan for my December baby-who-is-suddenly-almost-7-but-still-has-chubby-cheeks-and-I-can't-think-about-it-or-I-will-cry, Eva. So I am, basically, already behind, because it is now September 16 and I haven't bought a single gift.
But before you tackle that long to-do and to-buy list, you may want to pick up a little something for yourself. Or a friend. Or a teacher. Or any other bookworm on your list. Just because these are the cutest bookworm gifts ever and deserve to be bought.
1. Warby Parker "Walker" Glasses in Canton Blue: Every 6 months or so, someone in my family finds a pair of reading glasses in a pink pouch, and every time, I pretend not to know that they are the reading glasses that Kevin bought for me. As if. Now, if I had a quirky-chic pair like these, I might just claim them, and proudly rock specs like the adorable Girls with Glasses.
2. Ideal Bookshelf from Artist Jane Mount, $28 and up, idealbookshelf.com:  I am obsessed with these prints by artist Jane Mount, who paints the perfect bookshelf for the fashionista (above), the Jane Austen lover, the traveler, etc. Choose from an existing collection of books from authors as diverse as Tolstoy and Tolkien, or commission your own painting of a custom bookshelf, from $250.
3. Personalized Bookplates, Oiseaux on Etsy, $16.75/24: These gorgeous vintage bookplates will turn a stack of favorites into a personal library.
4. E-Reader Buddy, $12.45, Signals: It may not be as lovely as some of the other gifts on this list, but this little pillow makes curling up with a good gadget a little bit cozier.
5. Literary Art Kindle Fire Case, $24.99, Uncommon Goods: For the conflicted, like myself, these gorgeous cases cover your not-so-pretty technology with art from a favorite classic. The best of both worlds, really.
6. Literary Action Figures: $11.99-12.99, Gone Reading: Sure, there are troves of seriously good reader gifts to choose from, but I prefer the kitschy ones, like this Jane Austen action figure, or the Shakespearean Insult bandages.
7. The Little Librarian Let's Play Librarian Set, $21.99, Gone Reading: 
This award-winning toy enables kids to practice important skills, like borrowing and returning, while fostering a love of reading.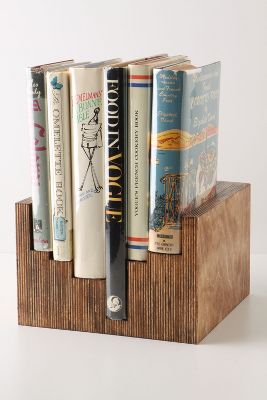 8. Vintage Book Boxed Set, Fashion, $2000, Anthropologie:
The ultimate gift, this collection will appeal to the avid reader and the fashionista!
9. It was a dark and stormy night Game, $39.95, Amazon:  Bookish types will love challenging themselves and their friends to guess a book based on only the first line. Or check out Bookchase.
10. Lumio Book Lamp, $190, MOMA: Disguised as a sleek, wood-bound book, this lamp opens to reveal pages of light that adapt that allow you to position light where you need it.
Still trying to make up your mind? Here they are, all in one place. Happy shopping! (For more carefully curated mom fashion and great gift ideas, don't forget to subscribe to be a BeautyMommy!