Before I became a mom, I chose a bathing suit with one goal in mind. Wowing my husband. Hence, the orange bikini, the black bikini, the flowered bikini, the striped bikini…
Now, after two kids and nearly 13 years of marriage, I choose bathing suits with one goal in mind. Wowing my husband. And there is one thing that stands in my way. Well, besides lack of time and a post C-section tummy and the fact that I am 13 years older than when I started. But, mostly, one thing.
The prevalence of the mom suit. It. Is. Everywhere. Buyer beware. Mom jeans have nothing on the full-on frumpiness factor of the mom suit.
It looks like this:
Or this:
And definitely this: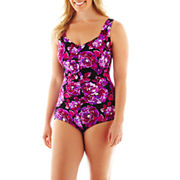 Sometimes, one detail derails an otherwise serviceable suit. A garish print. A too-high neckline. Other times, there is nothing redemptive about it.
It is ugly. It is aging. It is avoidable.
The only thing worse? The too-young bathing suit. It's too cutesy:
Or too bare:
Or wrong. Just wrong. For anyone:
I can't make these suits up. They exist, and they are atrocious.
The trick is to find a suit that makes you look like you have nothing to hide.
A seriously stylish one-piece can work, if you have the confidence to pull it off. But it has to be gorgeous, unique, and super-chic.
Is a two-piece more your speed? I've lined up some of the most flattering options available for some gorgeous, real life BeautyMommy readers.
How to Wear a Swim Skirt
The Body Type: Shapely, with full bust, hips, and thighs. Two of the moms described themselves this way.
The Solution: A skirted two piece, which can be tricky. For this to work and not veer off into Mom suit territory, it should be short, it should be snug, and it should in no way resemble an actual skirt. It should look like what it is, a bathing suit bottom. While swim skirts can help tone down hips and thighs, they should barely cover the bum. Barely. Avoid swingy styles at all costs, and choose a top that is bare and a little sassy. No tankinis, unless it's very ruched and you are very hot. Trust me on this one.
This suit, above, from the Tommy Hilfiger Pearl solids collection, offers hip and upper thigh coverage and bust support. And it doesn't look like you are hiding anything. It comes in multiple colors, too. Carmen Marc Valvo, Norma Kamali and A. Che have similar styles.
This one is also cute, from Soma Intimates.
And I adore this, from Tory Burch, if you don't need a lot of bust support. (Lucky you!)
How to Wear a Tankini
The Body Type: Short torso, less-than-flat tummy
The Solution: A very contemporary tankini. Look for a top that is spare and bare, and with either a slightly flouncy, floaty shape or exagerated ruching. And make sure it's high enough to leave a sliver of skin above your bikini bottoms. Otherwise, it's a one piece.
Or opt for a sleek rashguard, which makes even the most confirmed couch potato (me!) look semi-athletic. This one is from Mara Hoffman, who makes the best prints ever.
How to Wear a High-Waisted Brief
The Body Type: Full bust, tummy and bum.
These trendy, retro swim bottoms work well for tummy and bum coverage/minimizing, but they are not for everyone. First, your torso must be long enough to handle being, essentially, cut in half. The waist should hit either below or far above your belly button. And the top should be fabulous and a little barer than you would normally choose. The easiest styles to wear are sleek and modern, and not directly retro-inspired. These three fit the bill. If you don't need a lot of bust support, your options are even greater.
For details on all the suits shown here, check out this Pinterest board.