One day, I will invent something that will keep  little girls little. It might be a spray, or possibly a magic potion, or a sparkly pink drink of some kind, but one sip/spritz and a 4-year-old will stay a 4-year-old, content to wear sweet smocked dresses or twirly tutus forever. She will not wake up one morning and suddenly have battle-inducing, big-girl opinions about her next party dress, shunning pink tulle in favor of aqua sequins.
But until then, little girls will insist on growing into big girls, girls with opinions on what they should wear and how they should look. I am learning, reluctantly, that the party dresses Lola joyfully embraced as a 4 year old are no longer going to fly now that she is going-on-8. And that my days of choosing a party dress for her, without a lengthy consultation, are over. But I am still her mother, and I still make the final decision.
Some of these dresses are compromises. They combine the sweetness and innocence I insist on in party dresses for little girls, with a little bit of fashion-y big girl appeal. The dresses shown here are only a small sampling of the styles I've chosen. For more, visit this Pinterest board full of ideas!
Bonnie Jean sequin and ruffles dress, starting at $27.99, Amazon.com: The sparkly top and ruffles will appear to her fashionista-side, but the simple shape and subdued color keep it from being too over-the-top.
Un Deux Trois "Jackie O" Dress, $63, Saks Fifth Avenue: Simply elegant and stunning, combining classic style with a fun, twirly skirt. And the price is half of the original price! Used code JANFREE for free shipping. 🙂
Un Deux Trois Lace Party Dress, $78.75, Saks Fifth Avenue: This gorgeously girly party dress is covered in a floral lace and comes in pink or gray (my favorite!). So pretty, and half off. Use code SHIP75 for free shipping at Saks.
Halabaloo Metallic Lace Underlay Dress, $57.60, Last Call by Neiman Marcus: I love the quality and detail in the Halabaloo line. My girls own many of them and I've never been disappointed. The navy color and classic bow on this dress keep it classic, while metallic lace adds fun. (Note: I can't Pin from NM Last Call, for some reason, so this dress is not on the board. Click on the link instead.)
Dorissa "Vera" dress, $34.99, cookieskids.com: This dress manages to be elegant without being too mature. Love the color, and the price!
Pearl Ruffles Dress, $94.50, Chasing Fireflies: I love the combination of cute and couture in this sweet little dress, and it's versatile enough to wear wear to a dance and to a party.
Maria Casero party dress, $80.99, Sophia Style: There is so much I love about this dress: the classic shape updated with sequins, and the beautiful soft blush pink color. So pretty!
Biscotti blush dress, $57.59, Sophia Style: This dress has it all: the prettiest soft shade of pink, sequins, and twirly tulle.
Milly Minis Rosette Dress, $105, Neiman Marcus: I think this was a holiday pick of mine too – I love it that much. Fashion-y but still sweet enough for a little girl. And the $105 is the sale price. Too bad it's only available in a size 2!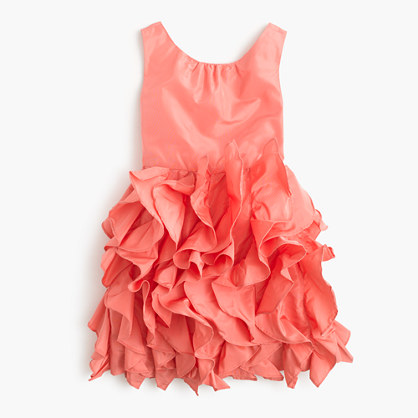 J. Crew "Lyla" dress, $188, J. Crew: I know these last two have broken my affordable rule a little, but this dress is so flawless and so adorable I couldn't resist!