I spent Monday morning avoiding other, more pressing duties by organizing my pantry. Not that it didn't need it. Like my desk area, the back door, the closet with all of the holiday decorations, and other clutter-prone areas in our house, the pantry seems to be in perpetual need of an overhaul. But I am learning, and developing systems that make it easier and easier to get it organized and keep it that way. Here, my top tips for bringing order to this often cluttered area:
1. Stylish Storage:
I once did a story on pantry organization in which a Tupperware expert came and gave my then-tiny apartment kitchen a complete organizational overhaul. I loved how it looked afterwards, with all of my staples sorted into matching storage containers. I learned a lot from that experiment. For our family, things that get rotated or switched fairly regularly, like cereals, cookies, and crackers, stay more organized in their original packaging, either sealed with chip clips or stored in Ziploc bags. But staples for baking and cooking belong in sleek stylish storage containers. These days, my favorites are the OXO Pop containers.They are clear, stackable, and easy to open and close. Plus they keep everything super fresh. Below, I've put all of my pantry staples (flours, sugars, rice, grains, beans) into these containers, and they are currently awaiting labeling. (That's my next project – see #5.) Hopefully, when I finally pick up labels, I will be able to remember the difference between the kamut and the quinoa.
2. Assigned Seating:
If you are lucky enough to have a pantry with several shelves, like I do, keep it organized by designating a shelf for each category. Put the items that you use the most within arms reach, and stash extra paper/plastic products and special occasion foods on the top shelves. I have canned tomatoes and salsas on one shelf, soups, tuna and ready to eat foods on the next, then beans and other canned foods, then crackers and cookies, pastas, and bagged snacks. The shelves above hold, from top to bottom, breakfast items, baking supplies, lunch box staples (in the big open plastic bins), and beans and grains. Another plastic bin, at left, holds opened snacks in Ziploc bags. It's easy to pull it out and see what's already open.
3. Use Every Inch:
I only added this wire shelving system  to my pantry door a few years ago, but I can't imagine what i did without it! It holds all of the little things that used to get lost in my pantry, including baking soda and powder, yeast packets, honey, peanut butter, nuts, dried fruit, etc. The bottom shelves hold larger items, like convenience foods.I hung a hook on the one free wall for aprons, and a recycling bin sits on the floor.
4. Sort the Small Stuff:
Small, half-eaten packages of cookies or chips are easily lost in a pantry, leading to waste or, worse, pantry pests. A couple of plastic bins hold all of those little stray items. We have one for candy that is kept on a very high shelf, one for "bars" – granola or Clif or Kind bars, one for sweet lunchbox snacks, like Annie's Homegrown graham bunnies or fruit snacks, one for salty lunchbox snacks, like pretzels and crackers, and one filled with Ziploc bags of assorted open snacks. That way I can pull a bin off a shelf and easily see what I have on hand. It also makes packing lunches or grabbing a snack when you're headed out the door so much easier.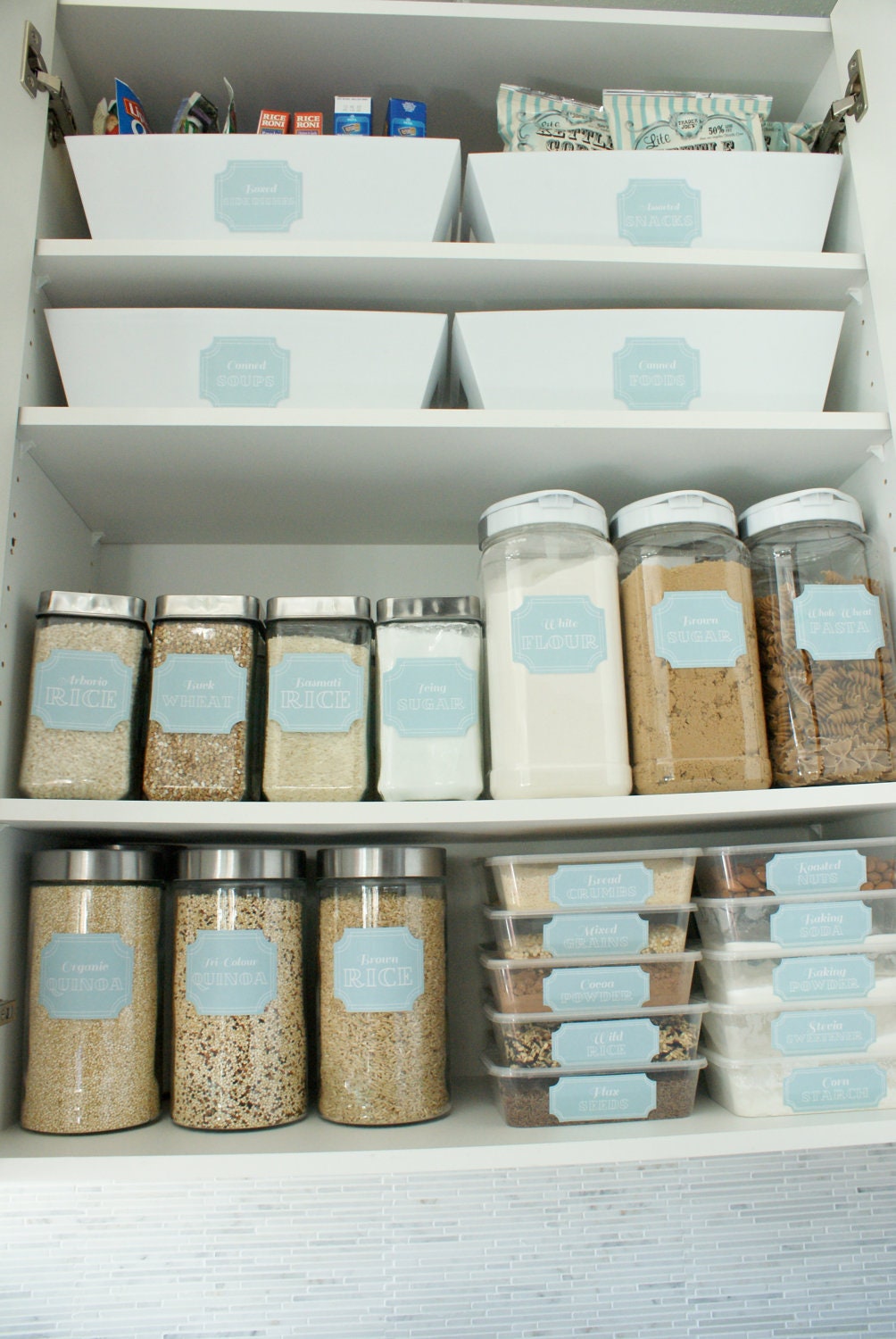 5. Label, Label, Label:
Find labels you love and use them on everything from storage containers to shelves. That way, everyone in the family knows where to find things, and where to put them back away. Etsy has a dizzying array of gorgeous labels to choose from, including burlap labels, chalkboard labels, and this gorgeous vintage blue set.