Hot weather means paring down to the essentials – filmy tops, easy shorts, and breezy dresses that barely graze the skin. But don't let an absence of fabric lead to  a style deficit: stunning accessories can turn your summertime staples into style standouts. Sure, these are splurges, but they are all classics you will adore for years to come, and in this world of disposable everything, that's priceless.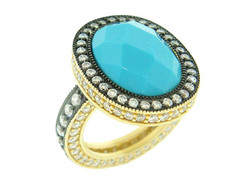 1. Belargo Montauk Turquoise Portrait Ring, $205: Turquoise always says summer to me, and this ring is chic and casual, all at once.


2. Z Spoke by Zac Posen Audrey Accordion Satchel, $450: It's no secret that I am a huge Zac Posen fan, and his Z Spoke line offers his signature style at a more affordable price. This bag is the perfect mix of classic and contemporary, and the color makes a stunning statement. That's why celebs like Olivia Palermo are fans.

3. Philip Stein White Ceramic Watch, $1595: I'm always looking for a watch that is versatile enough to wear with everything yet chic enough to stand out, and I may have found it. Philip Stein's gorgeous, dual-faced watch is stylish enough for the wanna-be jetsetter in me, yet practical enough for everyday. Love!