Mother's Day sounds so measly, when you think about it. After all, what's a day? It passes much too quickly, and many of my friends spent it doing what they do the other 364 days a year – taking care of other people. Several of my mom friends had to prep their kids and take them to a theater performance yesterday (and one of them was ill while doing this), while others catered to out-of-town sisters, mothers in law, and more. While my day got off to a wonderful start, I ended it on the couch with a headache. Can we say do-over? That's why I think we deserve more than a day. We deserve a week. At least. So for the next few days, I am celebrating moms everywhere by offering ideas for ways to make our lives easier, more stylish, and more fun! I started yesterday with a list of 5 affordable ways to spoil yourself, and today, the theme continues. Here, a few of things I wish I had received… and which I might just be buying for myself.


1. A Journal For Moms: I was recently sent a copy of For My Children: A Mother'sJournal of Memories, Wishes and Wisdom, $14.95, by Dionna Ford and was blown away. Inside one slim, beautiful volume is page after page of lovely illustrations and creative prompts about everything from vacations to traditions. I've always wanted to create a journal like this on my own, but never got around to it. Now, I don't have to.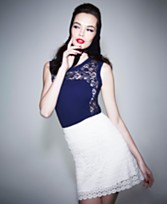 2. Alberta Ferretti for Impulse Lace Pencil Skirt, $69, Macy's: High end style comes down to earth with Macy's Impulse collections, which feature top designers doing limited edition lines. If you thought Alberta Ferretti's trademark prints and feminine style were out of reach, you will love her line for Macy's. My favorite piece is this femme, lacy pencil skirt. You'll wear it all season long.


Personalized Stationery and Decorative Objects by Erin Condren: I have always been obsessed with gorgeous stationery, even (and maybe especially) in this digital age. Erin Condren's new Viva Espana collection is stylish and memorable – a modern take on old world motifs. I love everything from the personalized notepads to the IPhone and IPad covers, but I find the personalized acrylic tray, above, $119, completely irresistible. 

Mama Mio Skin and Body Care: I relied heavily on this luxe, pampering line of products during my pregnancies, and they are still a favorite. Their signature scent, Gravida, still takes me almost immediately to those precious first days of mommyhood. The scent was designed to appeal to even the most sensitive of noses, which may be why it's one of the most soothing, calming fragrances I've ever experienced. Their OMega shower cream and Clean Slate facial cleanser are daily rituals for me.

Luxe Nightwear from Carole Hochman and On Gossamer: While dressing for bedtime used to be an event (chemise, matching robe, and yes, the occasional pouf-trimmed mule), these days, the last thing I want to feel on my down time is uncomfortable. Scratchy lace and fussy styles have been retired, at least for now. Fortunately, designers are offering ways to combine comfort with style and sex appeal. I've always loved the lighter-than-air underthings from On Gossamer, and these gorgeous PJs combine comfort with the hot-mama-ness we all crave. The pair in Pink Sapphire, above, is $79. Carole Hochman's Midnight Collection robes and chemises are as luxurious as they are lovely. I am obsessed with this pretty Sea of Love chemise, above. currently $46.99, a 40% savings.