As I mentioned in a recent blog, my almost-six-year-old, Lola, has been quickly outgrowing some size 11's and fitting into some of the size 12's that I had stockpiled. It's a good thing I plan ahead. I've been buying adorable little flower-adorned sandals, stretch ballet flats, and comfy canvas mary janes for the past few months in anticipation of just such a growth spurt, but that doesn't mean I am done. With so many adorable options for boys and girls for spring, my work may be just getting started. Here, my top picks for warm weather shoes:


1. Xhileration Holleen Sandal, $14.99, Target: Count on Target to offer trendy styles at surprising prices. These sandals are so chic, and right now, if you buy one pair, you get the second 50% off. I suggest making these your second pair.


2. Cherokee Preston Canvas Boat Shoe, $14.99, Target: Preppy style at a petite price. : )


3. Superga Metallic Sneakers, $60, Tea Collection: Sparkly Italian style for her feet.


4. Bensimon Tennis Elastique Sneakers, $45, Tea Collection: Famous French style for your little guy.
5. Sanuk Limelight Kids Sandals, $44, Tea Collection: More sparkle for hipsters.
6.

7. Petal Gladiator Sandal, $12.99, Payless: So pretty, and they'll go with everything this summer.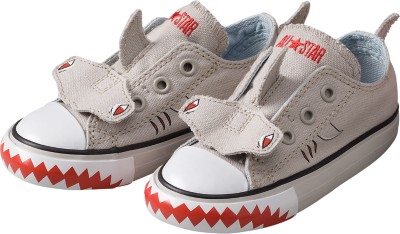 8. Creature Sneakers by Converse, $32, Hanna Andersson: So cute – great for your little animal lover.


9. Kenneth Cole espadrilles, $39.50, CWD Kids: Chic, chic, chic!



10. Fisherman sandals, $44, Hanna Andersson: Classic and cute.
11. Daisy sandal, $36.50, CWD Kids: I have Jack Rogers version in my size, and I adore them.


12. Plaid Twin Gore Airwalk, $16.99, Payless: Laid-back summer style.


13. Primigi Jelly Ballet Flats, $28, Garnet Hill: The cutest jellies ever.


14. Livie & Luca Butterfly Sandal, $48, Garnet Hill:  Irresistible.


15. Native Water-Friendly Boat Shoes, $30, Garnet Hill: I got the "Miller" style for Lola last summer and she loves them. These are this season's version – perfect for the beach.


16. Hoy Shoes Saltwater Sandals, $42, Zappos: These sandals are waterproof, cute, and versatile. My girls adore them. In styles for boys and girls.


17. Havaianas, $14, Zappos: As essential to summer as popsicles.



18. Strappy sandal clogs, $62, Hanna Andersson: European-style for little girls.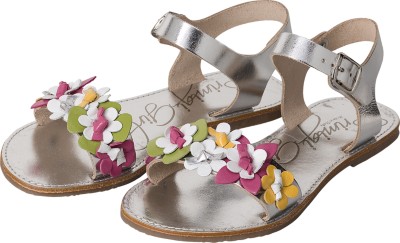 19. Primigi Flower Sandal, $72, Hanna Andersson: These are versatile, and they can be dressed up and down.


20. Naturino Polka Dot Sandals, $58, Garnet Hill: Pretty perfect – I am happy just looking at them.