As promised, I haven't forgotten about the boys completely, although I do admit that it's a bit more of a challenge to find really cute things for little guys. Here, my picks for casual, spring break style!
Spring Break Style for Boys


1. "Dressy Side Outfit," $39-50, Tea Collection: Laid back but with a little bit of luxury, this is the way I would dress my son. If he would let me. : )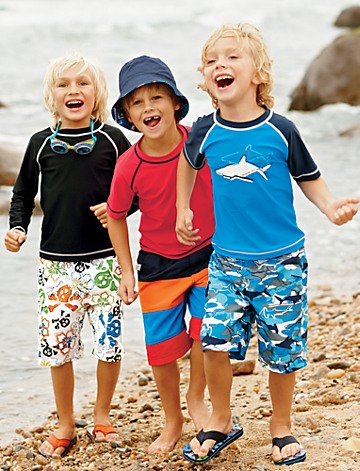 2. Swim trunks, $26 (through April 1!), Hanna Andersson: Hanna has some great swim trunks for boys this season, from bold stripes to cool prints. And they all boast matching rash guards and UPF50.


3. Lucky Fish tees, $38-40: The hippest, softest, coolest tees ever!


4. Christopher short, $39.50, Olive Juice: These make me so happy. I just thing the combination of crisp cotton and preppy gingham is summer perfection.


5. Ralph Lauren striped boatneck sweater, $115, Saks Fifth Avenue: Springtime in a sweater.


6. Stella McCartney Kids Max Banana Print Tee, $53: Who wouldn't love this cheeky design?


7. Little Maven Tee and Swim Short Set, $52: Hip and classic at the same time. Love the color. Tori Spelling's line is always a hit with me.


8. Pirate Rash Guard and Trunks, $24.99-26.99: Your little adventurer will love splashing around in this set.


9. Madras shorts and baseball tee, $24-25: Perfect for now through the Fourth of July.


10. Little Maven Navy Polo and Orange Short Set, $60, Forget Me Not Kids: Another winner from Little Maven – I love the twist on classic style. Cute!