Even as an adult, a cute navy shoe is hard to find. Usually, they are boring or frumpy or the color is off. So, when my friend Erin, whose beautiful little girl will be in Lola's kindergarten class starting Monday(!!!), complained about the lack of cute navy shoes to complement the school uniforms, I knew I had a mission. Here are the cutest-ever navy shoes I've seen! I hope you like them too!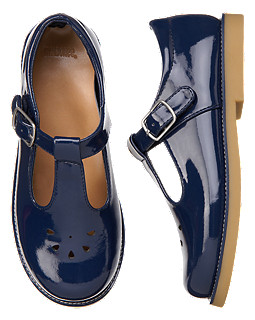 1. Gymboree Eyelet Patent T-Strap, $20.99: Too cute and classic, these have shine and cute cutouts to make them super special! And they're on sale!


2. Plaid Slip On Sneaker, 20.99: Another sweet style from Gymboree, these are super easy and adorable.


3. Sperry Kids Duckie, $19.25: Another great steal, these super-preppy shoes are back and great for rain-days. I've shown them before, but they are worth a repeat.


4. Agatha Ruiz de la Prada mary janes, $61.20: An additional 15% off and free shipping makes these shoes more reasonable, and the style, comfort, and quality is unbeatable. I got these for Lola and she won't take them off!

5. Morgan & Milo Tessa Mary Jane, $60: I love that Morgan & Milo combines the practicality of a sneaker with some seriously girly style. These adorable navy mary janes with the red zipper rose are next on my list for Lola!