The shopping scene has been a little dull, lately. I plan to spice it up with this list of must-own items. Don't say I didn't warn you:
1. Target's Vintage-Inspired Collection: Get it while it's hot – these retro pieces are inspired by classic designs. This scene-stealer will let you channel your inner Marilyn for $64.99. Shipping is free – yippee!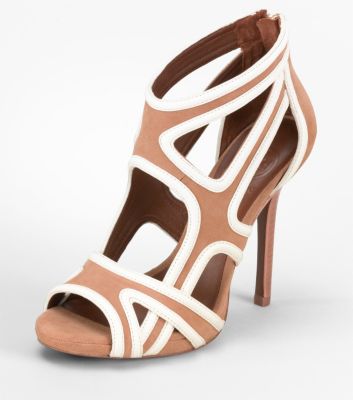 2. Tory Burch Elias Sandal, $325: It's a good thing that it's pretty much always sandal-weather in Florida, because I don't think I will ever want to take these off!
3. Prabal Gurung at J. Crew Exploding Bow Blouse, $225: She who hesitates is lost, which is why I missed out on this fab designer's more affordable line for J. Crew. I've been drooling over this blouse for a month – why didn't I buy it sooner? Oh, well, I can always get it on Ebay, for twice the price!



4. Juxtaposed Gems Ring, $198: This looks like something your very chic French aunt would leave you. As I don't have a very chic French aunt, I may just have to buy it for myself.


5. Marie Chantal Frill Neck Dress, $112: Because, every once in a while, I decide to buy something for my girls. : ) This will look lovely on Lola, and it's half off, which is practically free. I just love math!