I've always been fond of the whole Kate Spade aesthetic, from her crisply designed paper products to her brilliantly executed advertisements. I've been less a fan of her bags, which, until recently, I associated with the college girls in Boston who frequented her newly-opened store back in the late 90s, when I lived there. My knowledge of the scope of the brand was a little limited, at best, because, until this trip to Chicago, I'd never been into a Kate Spade boutique. I entered the charming little shop, casually curious, and emerged a changed woman. What I saw in this one little shop reshaped my ideas of how I want to dress, for the rest of my life. I am at that increasingly awkward age where I am starting to look silly in some of the items that used to be staples in my wardrobe (hello, babydoll dresses!), but I feel and, hopefully look, too youthful to wear clothes aimed at women in their 60s and beyond. What do stylish women in their 30s and 40s wear? In my opinion, they wear the bold colors, classic styles, and clean-cut all-American appeal of designers like Tory Burch and Kate Spade.
There is something about Spade's designs that are at once modern and timeless, bold and demure. They are ladylike and a little cheeky, with a preppy, all-American appeal. It brings to mind country clubs and cocktail parties and yachting trips. As with any successful design concept, it lures you in not just with the appeal of a handful of gorgeous, wardrobe-changing items – but with the the lifestyle they represent. I found myself admiring the chic-yet-cheerful assortment of items, and imagining how I would wear them, and how they might make my life more glamorous. Here, a few of my favorite items: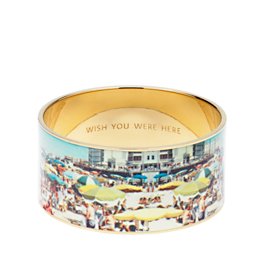 1.  Enameled Bangles: I've always loved enameled jewelry, and these gorgeous bangles won me over immediately. Not sure which I love most: the vintage printed scene on the "Wish You Were Here" bangle, $128, the great shape and pretty colors of the "Make a Wave" bangle, $78, the clever Idiom bangles, $88, or the chunky, colorful Pop Art bangles, $128.


2. Cool Clutches: My jaw literally dropped when I spotted treasures like the Lemon Drop Framed Lella Clutch, $325, shown, or the Lawn Party Raine clutch, $225, in metallic raffia, or the "Emma" book clutch, designed to look like the novel, $325, and the very chic Gardiner's Bay Farrah, $375.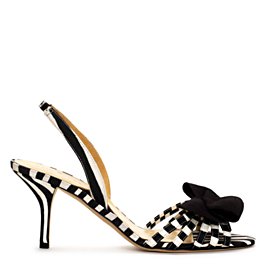 3. Shoes: Always an obsession of mine, I drooled over Spade's feminine yet very wearable styles, including the Maribeth, shown, the sparkly Charm, the Hula Too jeweled thong, and the chic Elena. Sigh.


4. Accessories: I love the whimsy and humor in these designs, including the Straw Sunglass Hat, $75, the Hello Sunshine Hat, $95, the Kate Spade Umbrellas, $35 (both in stripes or with a charming card design) and the fringed Bungalow scarf, $95.


5. Clothing: I love the crisp, printed dresses, sweet cardigans and chic little jackets. Favorites include the Floral Aubrey Wrap Dress, shown, $395, the Ilene cardigan, the Lace Loryn jacket, the Jeanette dress, the Fleur dress, the Katie cardigan… Sigh.